Surprise! Guess who showed up at the Dynamo pool today?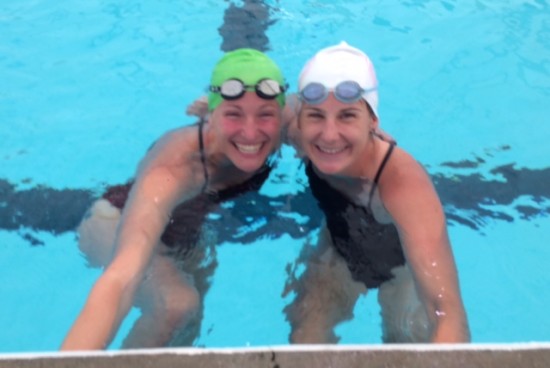 That's my Georgia Swimming Teammate, Claire Maust McDaniel!! Claire's in town visiting family before she and her husband take off on a major life adventure and I'm SO excited she stopped by the pool so we could catch up and share a lane, just like old times!
To make things even better, as a dietician, Claire is a HUGE fan of Osmo Nutrition products! I love it when my worlds collide in such a happy way.
Chatting with Claire in the 10 second rest periods between intervals reminded me how thankful I am that I grew up swimming. I know swim parenting is VERY hard work. As a kid, most days my entire household was awake and on the road before 5am and nearly all of our family "vacations" happened at a pool. The sport is not easy for anyone involved, but the payoff has been HUGE. Yes, there's the obvious benefit of a college education and swimming definitely paved the way for my triathlon success. But the best part is definitely the people. Swimmers are a REALLY special group.
Triathlon has taken me to a lot of cool places over the past couple years, and it seems like everywhere I end up, I run into former teammates. And even though I haven't necessarily done the best job keeping in touch, every single person has welcomed me as a good friend. I think there's something about the mix of early mornings, brutal workouts, and multi-day meets that brings some of the greatest people together.
So thank you Mom and Dad for getting me to the pool all those years. And thank you to Claire and all my former and current swimming buddies for reminding me just how lucky I am!! I may swim fewer laps and a whole lot less butterfly, but I'll always be grateful to be a swimmer.
{ 0 comments }