I didn't cry during The Notebook or Million Dollar Baby. Crash almost got to me, but not quite. Call me heartless and insensitive; movies just don't seem to get the waterworks flowing. But a quick read of Kyle Pease's blog never fails to leave me with tears in my eyes – and a HUGE smile on my face.
There's nothing sad about Kyle's story. It's a story of courage and hope. It's a story of smasing barriers, and having one helluva time doing it. But mostly it's a story about family, and I think that's why I really like it.
Doctors diagnosed Kyle with Cerebral Palsy when he was just a kid. But being wheelchair bound never slowed him down. In fact, he was in Louisville last summer, cheering for his big brother Brent, who was racing his first Ironman. And while Kyle's cheers were appreciated by all the Dynamo Multipsort athletes, it was this quote from his post-race blog that really stuck with me:
We all have a gift and it's up to us to use that gift to our fullest advantage and push ourselves to the limit. We are on the edge everyday. How can you make a difference in your world? I want to do an Ironman. I want people to see that I want to take it to the next level. I want to push the edge. I want to find that gift. I want to find that passion.
One blog post was all it took. Kyle's brothers, Brent and Evan, immediately got to work. Together, the three brothers hatched a plan that would really allow Kyle to take it to that next level.
The plan:
The brothers will race the Publix Georgia Half Marathon March 20th and St. Anthony's Triathlon  May 1st. And when they cross the finish line at St. Anthony's they'll be the first set of siblings to have completed a triathlon together. How cool is that?
How it's going to work:
Brent has upped his swim training and added in a little bucket "resistance training."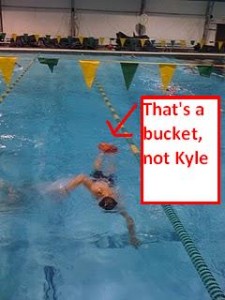 On race day he'll trade the bucket for his brother, in a kayak.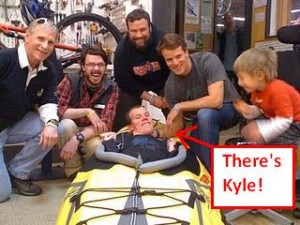 All the biking will be done with a specially designed Freedom Concepts bicycle. And Kyle will be ready to run while Evan pushes him in their new jogging chair!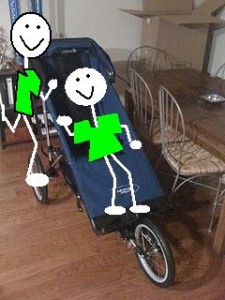 How to follow the action:
My two favorite news sources – Twitter and Facebook! And of course, Kyle's blog. I'll probably post updates here too because I like talking about Kyle almost as much as like talking about myself.
Be inspired:
I like to think about Kyle when things get tough in training, or in life. Each workout, each day, is a gift. And it's up to me to make the most of that gift. I'm inspired by Kyle. My blue "Walking with K-Peasey" bracelet has helped me through two Ironmans and countless training sessions. (Details on how to get one for yourself here). And K-Peasey, I have a feeling we both have many more fun races ahead of us!