Two of my all-time favorite training buddies had INCREDIBLE races the past two weekends.
First, Drew finished his second consecutive Norseman Xtreme Triathlon! What's Norseman? Only the most difficult Ironman distance race on the planet! As if 140.6 miles isn't already hard!
Drew swam through an icy cold fjord, rode over mountain passes, and ran a ridiculous uphill marathon to finish in the top 50 and win one of the coveted black t-shirts. So crazy it's awesome!
Back stateside, my superstar teammate Micki finished the inaugural Ironman New York City. But Micki didn't just race, she also raised more than $36,000 for the Multiple Myeloma Research Foundation in honor of our friend Betty who was diagnosed with the disease. And that's not even the best part! Check out Micki's finish line photo!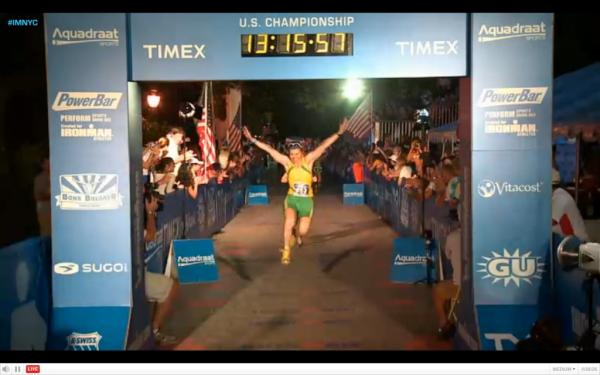 Meanwhile, I was busy celebrating here in Atlanta! One of my best friends from college, Melissa, is getting married!!! Mel and her fiance Willy actually met 12 years ago when they were both high school swimmers at Dynamo Swim Club – how cool is that?
When I first found out Mel's bachelorette party would kick off with an aerial dance class I was REALLY nervous! I'm not exactly the world's best dancer – even when I manage to keep both feet on the ground!
We started out with some poses close to the ground, and before we knew it, we were all hanging upside down!
And just when we were getting comfortable being six inches off the ground, the instructors decided we should try our poses a little higher. While hanging from another person. SERIOUSLY? WTF?!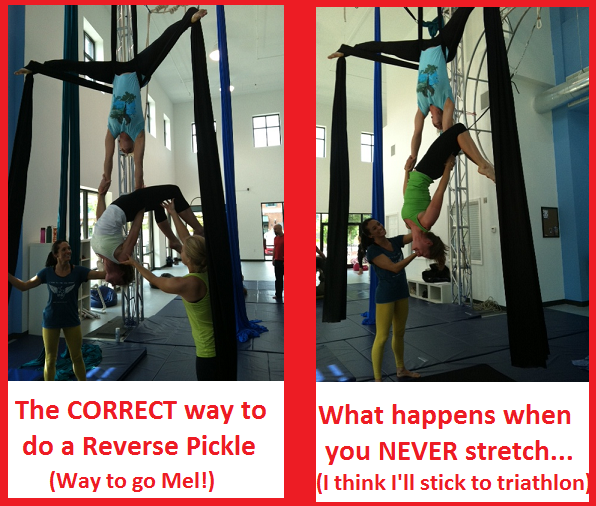 Mel was by far the best aerial dancer of the group. I was the best at just hanging there. But we all had fun and now I'm more excited than ever for the wedding!!!