Do you need more swim workouts in your life? Of course you do! That's why I've decided to start a new blog series sharing some of my favorite swim sets! I'm calling it the TYR Swim Set of the Week!
Every Thursday I'll post a new set that I've either recently done, plan to do, or just love. I'll focus on main sets that are applicable to triathlon and can be done in any type of pool. Need something specific? Leave me comment and I'll see what I can do!
A few details
I swim in both 25 yard and 50 meter pools. If I've recently done the set I'm posting, I'll try to specify what I did, but really, anything will work!
The sets I'm posting are meant to be started after a warm-up and maybe even a short pre-set. I'd also encourage a post-set cool down to make sure you're ready for your next workout!
I'll be posting the sets with intervals based on rest, which will work for swimmers of any ability.
Set look too long? Doubtful! You can do it!! You're a better swimmer than you think! (And there's only one way to get better…:)
Sometimes I use swim specific phrases like "Negative Split" and "Descend." I realize these aren't common in normal English and I'll try to define any specific terms within the workout. But if I miss anything, feel free to comment or email me and I will happily provide a translation.
None of these workouts are truly my own creations. I've had the honor of learning from some of the best swim coaches in the world, so I'll try to provide some context for each set and proper attributions to their brilliant creators!
TYR Swim Set of the Week Kickoff Giveaway!
To celebrate this amazing new blog series I'm doing my first ever giveaway!! The prize is a super cool TYR Convoy Rucksack!: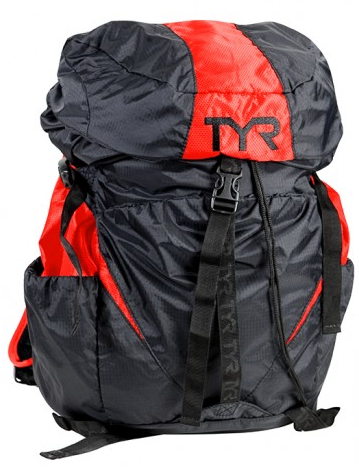 Compact and stylish, this is the PERFECT bag for heading to the pool!
To enter, simply leave a comment below telling me what you love about swimming. Bonus entries to people who actually attempt my TYR Swim Set of the Week and tell me about it!
Entries will be accepted through Wednesday, July 17th and the winner will be announced in next Thursday's post! Get on it!!
And now…the first official TYR Swim Set of the Week!!
I did this set last week after the Peachtree Road Race. I wanted to get a good swim in before I headed up to the mountains for a big weekend of riding. The set is the brainchild of my coach, Matthew Rose (aka, El Diablo). I thought I'd be swimming solo (no masters practice on the 4th), but luckily I convinced a couple friends to join. My friend Sean killed me on the first 800, but I got him back on some of the shorter stuff! Try it out and don't forget to tell me what you think! Happy Swimming!